Ferry
A historic ferry connects Weissenkirchen and the tiny village St. Lorenz on the southern bank of the river Danube. The ferry transports people, bicycles, motor bikes and cars. From the ferry you can enjoy a great view of the gorgeous scenery of the Wachau.
The ferry runs from 4th April till 1st November on working days from 8.30 till 11.45 and 13.30 till 18.45. Saturdays, Sundays and holidays from 8.30 till 19.00.
You find a ferry in Spitz-Arnsdorf and Duernstein-Rossatz as well.
FÄHRBETRIEB VON NOVEMBER 2021 BIS MÄRZ 2022 EINGESTELLT.
VORRAUSSICHTLICHER BEGINN DES FÄHRBETRIEBES IM APRIL 2022.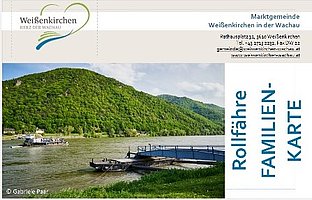 Die Familienkarte ist für 2 Erwachsene und max. 3 Kinder inkl. Fahrräder oder 1 Fahrzeug für eine Saison gültig. Die Karte ist nach Anfrage zum Preis von € 100,00 nur am Gemeindeamt der Marktgemeinde Weißenkirchen in der Wachau erhältlich.