River Boats on the Danube
River Boats on the Danube
Discover the Wachau aboard one of the boats on the river Danube and enjoy a gorgeous view of the UNESCO world heritage centre. Picturesque villages, medieval fortresses and castles, famous vineyards and monasteries come into view while relaxing aboard.
From April till October you can go on boats by two different companies: Brandner River Boats and DDSG Blue Danube, between Melk and Krems.
There are various packages for rail and boat available. Bicycles are transported for an extra fee.
For further information see www.brandner.at
....weil der Holzweg der richtige ist.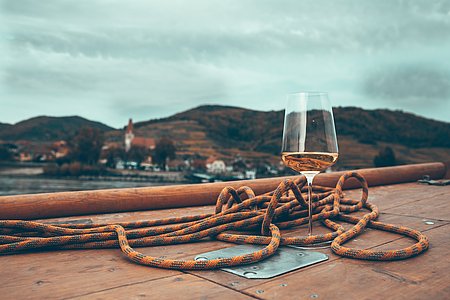 Die beiden Wachauer Gerald Geith & Michael Reichl befahren die Donau als prägendes Element im Wachautal auf seine ursprünglichste Art - in klassischen, von Hand maßgefertigten Holzzillen. Als große Wachautour empfiehlt sich der Donauabschnitt SPITZ - LOIBEN UND RETOUR, dafür sollten ca 2,5 STD einkalkuliert werden. Alternativ kann aber auch in fast jedem Wachauort zu und von Bord gegangen werden.

Die besten Tropfen der Wachau
und eine große Truhe Eis sind auf jeder Ahoi Wachau Tour mit dabei. Von der klassischen Riedenfahrt mit professioneller Wein- und Lagenerklärung, bis hin zum chilligen After Work mit Spritzern, Gin Tonics und House Beats passen wir uns euren Bedürfnissen an. Doch eines bleibt immer gleich,… ohne Zeitdruck geht es nun stromab, getragen vom großen Fluss und mit dem Gedanken im hier und jetzt.
Kontakt:
Ahoi Reichl Geith OG
Kirchengasse 63, 3610 Wösendorf in der Wachau
hafen(at)ahoiwachau.at
www.ahoiwachau.at
+43 676 9404700 oder +43 664 1540324